Hey guys! Today I am sharing some of my recent favourite shows that I have watched on Netflix, plus one bonus that is not available on Netflix but that I highly recommend you all to watch immediately. As some of you may or may not not, I studied Communications in university, which is basically media studies. One of my favourite courses was actually a course on television. I like watching tv way more than movies, but I am enjoy reviewing and recommending different tv shows to my friends. Now I'm not going to lie, I have a pretty niche-ish taste in tv shows (my faves on historical dramas and teen dramas) but I have decided to share my recent faves that you can watch on Netflix. Let me know if you guys are interested in seeing an all-time fave tv post!
1. Brooklyn 99
I mean you must be living under a rock if you haven't heard of Brooklyn 99 yet. I'm not much of a comedy person, but I actually find this show hilarious. Back in first year, some friends on my floor and I watched the first season together. That winter break I binged the rest of the show with my brother who also feel in love. I just recently finished the sixth season. Like I can't just say 'cool' anymore, I say: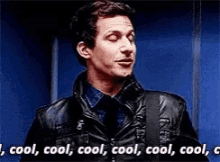 For those of who you don't know, Brooklyn 99 follows a group of dectectives who work in NYPD's 99 prescient. A lot of the humour is based on crime television, a genre full of tropes. The main character is played by Andy Samberg, so if you like Lonely Island you would like this show. The characters are all love-able but complex. Comedies can sometimes rely on stereotypes for characterization, but all the characters are quirky and hilarious. Finally, Brooklyn 99 also tackles some serious issues using humour. It discusses sexism, racism and also portrays some LBTGQ characters quite well. If you wanna laugh, check out this show.
2. Medici
If you want a historical drama that is more heavy on drama than history, then check out Medici. The first season, Medici: Masters of Florence, follows Cosimo de Medici and he figures out who murdered his father, Giovanni. The second season, Medici: The Magnificent, follows Cosimo's grandson Lorenzo de Medici. First, I like the show because both seasons are only eight episodes long. It doesn't draw on forever, it's a quick and addictive watch. I binged both of the season within a week each. I also like the show because it is full of drama, romance and mystery. There is a lot of shit that goes down in the show. But finally will it might not be the most historically accurate, I still learnt a lot of the Medici and the Renaissance. For those who don't know, the Medici where the big ruling family of Florence, Italy, and they sponsored many of the thinkers and artists of the period. It was super cool going to Florence this past spring and seeing some of the building and artwork mentioned in the show.
3. The Last Czars
If you loved Anastasia as a kid, then you definitely need to check out this mini series. Part reconstruction and part documentary commentary, the show explores the life and downfall of the Nicholas Romanvo, the last Czar of Russia. Now the mix might not be for everyone, but I personally enjoyed it. As someone who didn't know much about the Russian Revolution except for the basics, I found this highly educational. But the presentation style was also highly enjoyable. The costumes and cinematography was beautiful. I did find the acting a little cheesy, but I do enjoy cheesy. I felt like The Last Czars was a good introduction into the topic, and now I want to learn more. At six episodes, it's a quick and enjoyable watch.
4. You 
If you weren't one of the millions of people who watched the show when it came to Netflix this past winter, then I recommend you go back and watch it. This show is so gripping and creepy yet dumb and ridiculous at the same time. The show follows Joe Goldberg, a bookstore manager who becomes obsessed with a girl named Guinevere Beck. The show is creepy because Joe's obessesion with Beck is crazy, and the steps he goes towards stalking her and controlling their relationship is insane. What is most conflicting is how the viewer is repulsed yet also silently cheering on Joe through the show. The viewer watches Joe help his kid neighbour who has an abusive dad, but then he goes and beats up Beck's boyfriend. And the ending is such a surprise, not one I saw coming. I am curious what the second season will be like.
5. Outlander
I decided to start reading the books after falling in love with this tv show. This historical time traveler series follows Claire Randall, a World War II nurse who falls back in time to 1730s Scotland. Claire meets James Fraser, a Scottish Highlander, and she becomes involved with the Jacobite risings. Sam Heughan, who playes James Fraser, is extremely attractive so this show is very easy on this eyes. The show has a little bit of everything, with romance, action, political intrigue and a dose of history. If you like Game of Thrones, I feel like you would be a fan of Outlander as well. I personally found the third season to be a little slow, but really liked the fourth season. Also fun fact: my last name is also Randall, so it's funny to watch the show and see characters sharing your family name.
BONUS: The Handmaid's Tale
So this is a bonus because it's not on Netflix, but if there is one show you should watch off this list, its The Handmaid's Tale. Based on Maragret Atwood's novel of the same novel, the show is a dystopian future where a highly conservative and religious government has taken over the USA, forcing fertile women into slavery. With all the stuff that is happening in the US, this show is a scary look into what our society could be like. The first season can be a little confusing if you haven't read the novel, but the next two go past the plot of the novel. This series if very dark and serious, so it's not for leisurely watching. It is beautiful filmed – fun fact it is actually filmed in Southern Ontario. I've driven by one of the main houses multiple times, and one scene was filmed at my university.
But anyways, if you are looking for a show for academic reasons, this one if also perfect. It is full of imagery and symbolism, and full of bible references. Many people are also drawing parallels to Trump's America as well. I wish I had watched this show while in my television class, because this would have been great to write about. This is definitely a more intellectually inclined show, but I would still highly recommend because I think the narratives and themes are highly important. Please watch so I have someone to discuss the show with.
And those are my recent Netflix recommendations! Let me know in the comments some of your current favourite shows!
xoxo
Lea